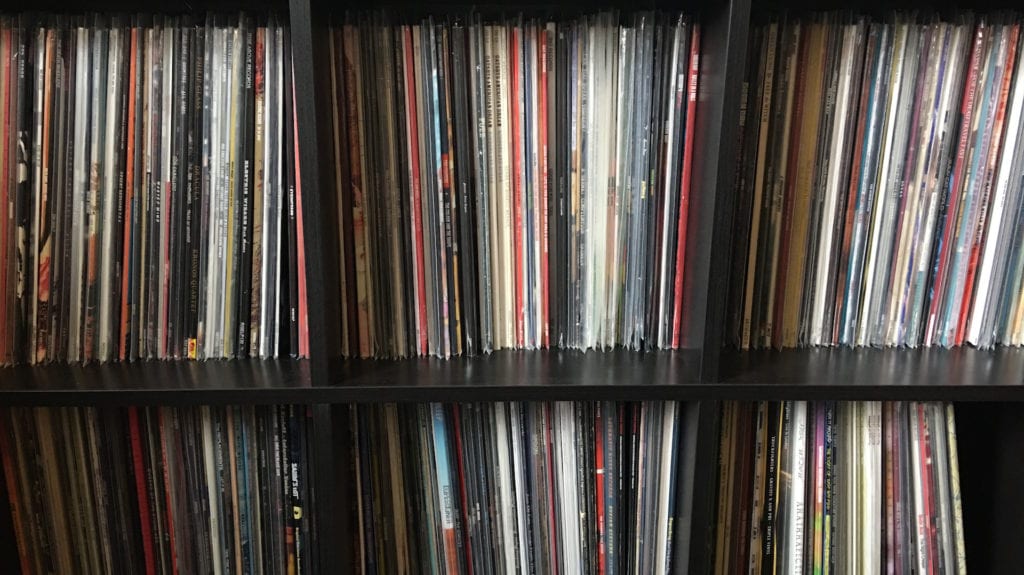 If you are reading this, it may already be too late for you, and I don't mean in regards to the global pandemic we're all attempting to survive at the moment. No, I mean if you are investing time into reading about someone else's record collection, you either have too much time on your hands (possibly due to the aforementioned pandemic) or you are just like me: someone who's fallen down the rabbit hole of vinyl and never looked back. And, don't worry, if you're not a fanatic just yet, I'll do what I can to nudge you toward the Dark Side.
When I Came Around
When I was in grade school in the early 90's, I was fascinated with my parents' record collection, particularly my mom's Beatles records. I would spend hours listening to these albums, especially Help! (in part because I was also obsessed with the movie of same name), and examining the record sleeves. I learned how to operate the turntable at a young age, at least relative to the fact that my generation was actually weaned on cassette tapes and CD's, not vinyl; in fact, I still have my parents' Sony record player and use it every day. All of this is to say that my interest in music was present early in life, but I didn't really have "my music" until an album called Dookie split open my whole world in 1994.

This isn't to say I didn't have any cassettes of my own before Green Day came along; for instance, I remember I owned Kriss Kross' Totally Krossed Out, which I got sometime in the third grade. There was definitely music I heard on the radio that I liked, but music mostly felt like it was just around me, not part of me. I didn't have a band that I could call my own until Green Day roared into my life. It was at that point that I no longer liked all music by default — I liked this music: it was fast, it was catchy, it was snotty, and it was loud. That was when the tides changed for me, and I began to actually have a preference about the music I listened to; put another way, 1994 was the year that my little seedling of record snob-dom began to sprout! Dookie was the record that made me want to play drums and start a band, and it also made me want to find more music that sounded just like it did. I could honestly nerd out all day about that record and that band, and I even got the chance to do so on an episode of a friend's podcast a couple years back. Don't worry, though — I will definitely be returning to this album in a future column.
Welcome to Paradise
The other factor that really helped shape my record-collecting trajectory was that I was fortunate enough to have a really badass record store in my neighborhood when I was growing up. Record Breakers was only a mile from my house, well within walking/biking distance, and I started to frequent the store when I was in 5th grade. I honestly don't remember what brought me into the shop the first time, nor do I remember if I went alone or with friends (actually, it's likely I went with my mom), but that place really finished the job that Dookie started a year prior. It was there that I was thrillingly exposed to more underground music than I could ever hope to realistically consume. It was heaven.

From age 11 until about 21 (when the store relocated to the South Loop of Chicago; it's since moved again to the Avondale neighborhood), Record Breakers felt like a home away from home for me. In high school, during the summer, I would often go there several days a week. In this time before streaming services and even pre-high-speed downloading and file-sharing, the CD listening stations at Record Breakers were my sanctuary. I would spend hours scouring through the used CDs, taking large stacks to a listening station, putting on the headphones, and pressing play: "What will this band sound like?" That sense of curiosity and the joy of discovery left a huge imprint on my life. My junior year of high school, I also bought my very first vinyl record there. In that moment, I was a lost cause. Vinyl was going to be an important part of my life from that point on.
In the End
To this day, vinyl continues to be an essential part of who I am. When my wife asks our 3-year-old son, "What's Daddy's favorite thing?" he says, "Records!" (Just so I don't get accused of being an awful parent, if you ask my son who my favorite person is, he replies by pointing to himself, so there are some things in my life more important than records, though not many.)

Anyway, thanks for making it this far, and big thanks to Live From The Rock Room for inviting me to contribute to the site! I promise to talk (a little bit) less about myself in future columns and more about the records because that's what we're really for. For now, if you have questions or just want to drop me a line, feel free to leave a comment below. Talk to you soon! 
Current Earwax
As a sort of postscript to each of my columns, I'm going to highlight some recent vinyl acquisitions because I'm always working to grow my collection (my wife might argue I "work too hard") and, frankly, part of the fun of collecting is talking about it; after all, that's the underlying premise this column is predicated on. With that in mind, here is one of my most recent scores:

Huntsmen – Mandala of Fear (Prosthetic Records) – This is a contemporary Chicago band that is really doing some exciting things, both musically and aesthetically. Their sound blends doom metal, grunge, and 70s hard rock with three-part vocal harmonies straight out of Kansas' "Carry On My Wayward Son." On paper, that may read like an odd mix, but it totally works, and they have a sound that is 100% their own. Not only is the music killer, but the packaging and overall presentation are equally engaging; the Sand/Night-colored vinyl is gorgeous, as is the artwork for the gatefold sleeve (which I believe I read was painted by their drummer), and the record even comes with a 32-page graphic novel! All in all, it's a beautiful release, and I'm happy to welcome it into my collection. Looks like there are still some copies left on their Bandcamp page, so if you want one, make sure you pick one up before it's too late.
---
Chris Pagnani, author of Wax Poetic, is a dad, husband, musician, and record nerd living in the Chicago suburbs. When he's not archiving his record collection on Discogs, he busies himself with drinking lots of coffee, working a real job that pays the bills, playing drums in Hot Alice and No Alternative, and, it should go without saying, buying more records.