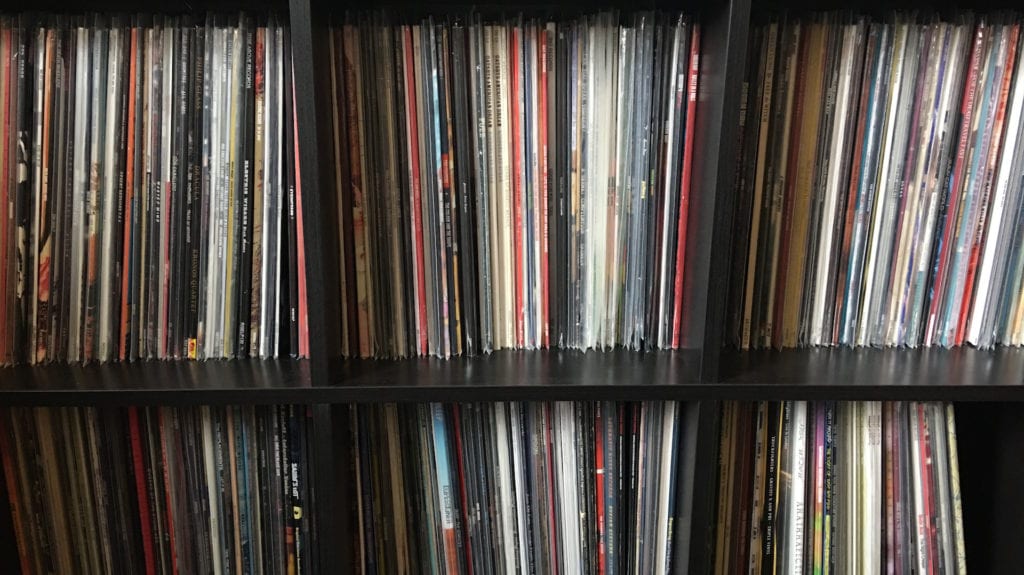 Whether you are new to buying records or you're simply looking to expand your existing collection, you'll be heartened to know that when it comes to finding the records you're chasing after, you have an overwhelming amount of avenues on the internet. Not to sound all "back in my day," but when I first started collecting vinyl close to 20 years ago, one's options were somewhat limited. Physical brick and mortar record shops weren't necessarily uncommon, but by the late '90's and early 2000's, a store having a robust selection of vinyl wasn't always a guarantee since CDs were still the preferred medium. The general renewed interest in actual records and the whole vinyl boom didn't seem to start gaining momentum until the mid-2000's, maybe even later.
If you were lucky enough to have a shop near you that actually carried vinyl, like I was with Record Breakers, that was definitely to your advantage. Mail order from record labels producing these titles on wax was a possibility, but not all labels were actually producing vinyl at this time since there wasn't the same market for it that there is now; this is also why the vinyl selection you'd find at record stores could be hit or miss, as there weren't as many new releases being issued on vinyl. As far as where you could buy records online in these Dark Ages, eBay was unfortunately one of the only outlets, and most of what you'd find there were out-of-print records, which meant $$$. I bought my very first copy of Dookie on pink vinyl in 2005, I believe, on eBay for around $90; the album had long been out of print, there hadn't been any reissues yet, and that scarcity dictated the high price tag.
Thankfully, things have gotten a whole lot better for us vinyl nerds as time has marched on. That being the case, I wanted to highlight some of my preferred methods for buying records online. Bear in mind, this is by no means an exhaustive list, but this should still provide you with some good places to begin your journey.
Buy Records From Discogs (As a Last Resort)
While not typically my first stop for online record purchases, it would be preposterous to have a discussion about where to buy records online and somehow not mention Discogs. Originally intended to be an online database for electronic music releases specifically, Discogs eventually set their sights on the modest goal of archiving every piece of recorded music ever; the archive itself is actually powered by user contributions and currently has information on over 11 million recordings with nearly half a million contributing users.
I use Discogs primarily to archive my record collection and get pricing information on albums I'm looking to purchase. For instance, if I was doing some record shopping IRL and found an album I'd been looking for, depending on the price tag, I might check the listing for that release on Discogs to assess the fairness of the price and get a gauge on how widely available the record might be. Take, for instance, the version of Dookie I mentioned above—I can simply look up this particular version's listing, review the pricing history, and see how many copies are currently for sale. Most often, if you can believe it, I'm using Discogs not to actually buy records but to decide whether or not I need to even purchase a given record wherever I might be, like, "Do I really need to jump on this now, or can it wait?" There have been numerous times when checking Discogs has resulted in me actually saving my money for the time being.
Still, the Discogs marketplace is incredibly vast (at the time of this writing, there are a whopping 51,806,009 items for sale), and if I've exhausted other preferred methods (which I'll highlight below) and still turned up nothing, I can usually find what I'm looking for and make my purchase directly on Discogs. For instance, this morning I was scrolling through Instagram and saw someone post about a record that sounded intriguing (Jimi Tenor & Hjálmar's Dub of Doom), so I checked out some of the audio online and decided I really wanted this record. After doing a few different Google searches, I found that the record didn't seem to be available anywhere else at the moment except Discogs. I went to the album's Discogs listing and found one lone copy for sale in Iceland, so I snatched it up. This entire narrative, from discovery to purchase, took place within the span of about 15 minutes.
Buy Directly From Independent Record Labels & Artists
If you take nothing else away from this column, please know that the absolute best method for buying records online is to purchase directly from the artists and labels who are producing the music. The only way to ensure these creators continue to have the means to release the art we love is by supporting them when they do. After quite a few years now of fans feeling entitled to listen to any and all music for free online (myself included), the resurgence in people buying vinyl is finally re-introducing the means for artists to at least make some money on physical music sales once again, which is significant. It's for this reason that I always try and buy records directly from the band or label rather than buying on Discogs; if the record is still in print and available, I'd much prefer my money go into the pockets of those who toiled over it.
While there seems to be an unfortunate and continuing trend of more record stores closing than opening, the silver lining is that artists and labels have overwhelmingly done a good job of making it seamless to buy their records online both through their own websites and also via third-party providers like Bandcamp. I would bet that, more than ever, the bulk of record sales are coming directly from the artists' own websites, as opposed to bands relying on selling their releases primarily in stores, as used to be the case. Finding where to shop online for the records you want is as easy as doing a quick Google search or checking on Facebook or Instagram. With regards to Instagram in particular, the use of hashtags has also made the discovery process that much more robust; if you search general hashtags like #vinylrecords or #recordcollection or #nowspinning, you will inevitably encounter an avalanche of new vinyl to chase down.
For the last 3-4 years, my big musical obsession has been anything in the realm of doom metal, stoner rock, sludge, heavy psych, and acid rock. Basically, the more fuzz, the better! And by way of social media, finding niche labels that specialize in my preferred genres is easier than ever. Through even the most cursory internet sleuthing, I've stumbled across so many labels (and bands) that I now religiously follow, including:
Plus, I continue to learn about new labels and bands to support by following more genre-specific hashtags like #doommetalvinyl or #stonerrockvinyl, but again, this is just my obsession and an example of how you can use the web to your advantage. The same could be done for any genre that excites you, from #indierockvinyl to #hiphoprecords to #punkvinyl and so on. The point is simply 1.) figure out what you like, 2.) find the bands or labels who specialize in this music, and 3.) support the hell out of them, so they can continue to do what they do!
Buy From Independent Record Stores Online
Another great way to make your money count when buying records online is to buy from brick and mortar stores that also deal in online sales, and the good news is that many of them do nowadays, either via their own website or a storefront that they've set up on Discogs. Lots of indie record shops make it so you can browse nearly their entire inventory online and save yourself the trip to the store. I live about an hour from Chicago, and the fact that I can shop online from cool stores like Reckless Records, Shuga Records, and Record Breakers, all without having to deal with the hassle of trekking downtown and circling around endlessly to find parking, is a huge perk. And, of course, the magic of the internet means I'm not even limited to shopping from record stores in my area, although my preference is to always try and support my favorite local haunts when I can, even if it's just from my couch.
And just like you can search for labels and artists that deal in the specific type of music you dig, you'll likely also find online shops that are a little more genre-specific, if that's what you need. For myself, when I'm searching beyond the stores I mentioned above, I often will browse the Anxious & Angry store for punk-specific/adjacent records and Western Death for doom/death/sludge releases. All of this is to say that a little bit of effort really goes a long way when it comes to tracking down the folks who sell what you're looking for, whatever that may be.
…Now Go Forth!
I could honestly talk all day about this, but I think a better use of your time is for you to start figuring out who the movers and shakers are in whatever realm of vinyl you're interested in. You may just find, like I have, that there are a whole lot more exciting records out there than you could ever dream to own, though dreaming about owning them all is fun and really what we're here for 🙂 Once you've had some time to do some digging, let me know where you like buying records online in the comments below. I'm always looking for new bands, labels, and stores to check out. Until next time!
Current Earwax
As a postscript to each of my columns, I like to highlight some recent vinyl acquisitions because I'm always working to grow my collection and, frankly, part of the fun of collecting is talking about it. Here are some of my most recent scores: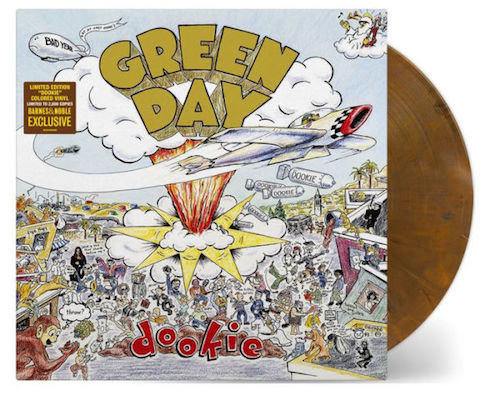 Green Day – Dookie (Barnes & Noble Exclusive "Dookie" Colored Vinyl) – Yes, I see the irony in showcasing a record I bought from Barnes & Noble following a column that so strongly advocates for supporting the little guy. Let's agree that neither Green Day or Warner Bros. could be considered "little guys" either, so this isn't the same as buying an independent release from a big-box store that's bleeding profits from the artist. Now that we've cleared the air, I will say I only recently discovered the existence of this variant, which was released in February of this year, and as soon as I saw it, I had to have it. Truth be told, it's been several years since I've bought another version of this record, so I was about due.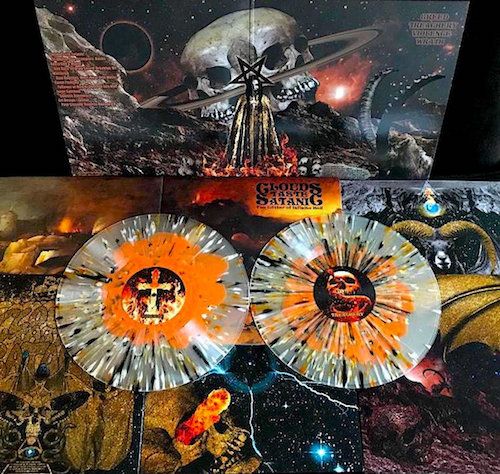 Clouds Taste Satanic – The Glitter of Infinite Hell – For my tastes, this is a band that has it all: a tongue-in-cheek name, some of the very best packaging and vinyl variants around (check out this Halloween orange and milky clear color-in-color vinyl with black, white and orange crush splatter), and, as you might have guessed, music that is heavy on the doom. Over the course of four tracks that each clock in at around 18 minutes a piece (named "Greed," "Treachery," "Violence," and "Wrath," respectively), this instrumental band from New York blends doom metal with psychedelic rock, post-rock, and, to surprising effect, even some spaghetti western influence. Clouds Taste Satanic is a band that knows exactly who they are and who their fans are (read: me). Love this group. If this sounds like it's up your alley, be sure to support them by picking up a copy from their Bandcamp page.
---
Chris Pagnani, author of Wax Poetic, is a dad, husband, musician, and record nerd living in the Chicago suburbs. When he's not archiving his record collection on Discogs, he busies himself with drinking lots of coffee, working a real job that pays the bills, playing drums in Hot Alice and No Alternative, and, it should go without saying, buying more records.